Asphalt, Bluecrest, Black, Blue Haze, Blue Night, Blue Yonder, Bright White, Charcoal Heather, Cloud Burst, Crimson, Crimson Heather, Dark Forest, Dark Marl Grey, Dark Rum, Desert Heather, Duffel Bag Green, Firestarter, Gold Coast, Grey Heather, Harvest, Husk, Indigo Heather, Navy Heather, Nine Iron, No Fear Red, Red Clay, Red Clay Marl, Sand Heather, Seamaster, Sharkskin, Smokey Mountain, Stonewash, Storm Heather, Total Eclipse Blue, Total Eclipse, True Black, Weldon Blue, Whisper White, Wild Plum, Plum Heather, Spruce Heather, Gargoyle, Moonstruck, Laurel Canyon, Cactus, Sandstorm, Covert Green, Monument Grey, Indigo, Black Sky, Rum Swizzle, True Navy, Nine Iron Heather, Birch, Tornado Grey, Aegean Blue, Alloy, Sun Dried Tomato, Navy, Bijou Blue, Camo Green, Walnut, Stealth Grey, Coronado Blue, Cendre Blue, Metro Blue, Blue Moon, Medium Grey Heather, Aquifer, Warrior Red, Bright Cobalt, Aquatic, Matcha Green, Cliff, Rescue Orange, Taxi, Blue Heather, Bluelight, Grey Heather Pocket, Desert Heather Pocket, Ember Pocket, Summit Blue Pocket, Rust Pocket, Forever Blue, Ember, Cava, Rum Swizzle Pocket, Mariner, Dean Blue Pocket, True Black Pocket, Total Eclipse Blue Pocket, Monument Grey Pocket, Airstream Pocket, Open Skies Pocket, Red Brick Pocket, Yew Pocket, Aegean Blue Heather, Brown Heather, Charcoal, Mai Tai, Kentucky Blue Heather, Haute Red, Parish Blue, Purple Dye, Redwood Heather, Russet Heather, Yew, Black Donegal, Charcoal Donegal, Strong Blue, Calder Blue, Russet, Purple Fog, Rust, Dean Blue, Red Fern, Dried Fig, Summit Blue, Red Brick, Open Skies, Goldcoast, Port, Mushroom Heather, Sunkissed, Covert Green Heather, Port Heather, Taxi Heather, Shades of Grey, Shades of Blue, Cactus Heather, Americana, Sequoia, Walnut Heather, Monument, Racing Blue, Petrol, Hunt Green, Pinot Noir, Blue Haze / Weldon Blue, True Navy / Rescue Orange, Cool Heathers, Dried Fig Heather, Skydiver Heather, Anthracite Heather, Blue, Arcade Red, Frost, Red, Porto, Asphalt Heather, Mixed Colors, Red, Grey Heather / Dean Blue, Bright White / Warrior Red, True Navy / Grey Heather, Graphite Heather, Malbec Heather, Monument / Weldon Blue, Mobile Blue, Rum Heather, Sergeant, Purple Smoke, Porto Heather, Riptide Heather, Yew Heather, Steel, Indigo Dye, Infantry, Bluelight Heather, Thunder Heather, Rescue Orange Heather, Airstream, Motorboat, Seagrass, Plum Heather, Royal Palm, Blue Glass, Wild Mushroom, Newport Blue, Moss Heather, Deep Purple Heather, Cork, Charcoal Heather | Infantry, Grey Heather | Red Fern, Total Eclipse | Indigo Dye, Primary, Riptide, Mixed Heathers, Asphalt / Total Eclipse, True Navy / Charcoal Heather, Sergeant / True Black, Spring, Brights, Navy Space Dye, Total Eclipse / Petrol, Duffle Space Dye, True Black / Walnut Heather, Duffle Bag, Seagrass Heather, Red Hot Heather, Sergeant / Grey Heather, Charcoal Heather / Dark Forest, True Navy / Dean Blue, Rust / Total Eclipse / Firestarter, Summer, Hibiscus, Bluenote, Atlantic, Fireworks, All Together, Matcha, Redwood, Weldon Blue Heather, Blue Heather, Murray Red, Bodhi Blue, Total Eclipse / True Navy, True Black / True Black, Grey, Bluelight / Grey Heather, Cactus / Grey Heather, Walnut / Grey Heather, True Black / Crimson Heather, Blue Haze / Total Eclipse Blue, Douglas Fir, Black Plum, Aegean Blue Heather, Ash, Kentucky Blue, Chrysanthemum, Porcelain, Steam, Black Plum Heather, Gulfstream, Husk, Charcoal Heather / True Black, Total Eclipse / True Black, Duffle Bag Green, Gulfstream Heather, Coolant, Forest Heather, True Navy Heather, Hunt Green Heather, Asphalt Heather / Charcoal Heather, Navy Heather / True Navy, Asphalt / Navy Heather, True Black / Anthracite Heather, Crimson / Charcoal Heather, Medium Grey Heather / True Navy, Steel / True Black, True Black / Anthracite Heather, Asphalt / Navy Heather, Fall Foliage, Fire Pit, Cloudy Skies, Manhattan, Cool Down, Parachute, Lakeside, Camping, Evergreen, Commando, Total Eclipse Blue / True Black, Ivy, Rainforest, Classics, Mixed Solids, Succulent, Ultraviolet, Total Eclipse Heather, Arctic, Sunset, Mixed, Solstice, Aquarium, Shoreline, Winter, Dawn, Alpine, Carbon Heather, Succulent Heather, Sunrise, Blue Stone, Alloy / Canvas, Rust / Canvas, Solid Variety, Propagation, Sunrise Heather, Ultraviolet Heather, Black / Canvas, Bluelight Heather / Cactus Heather, Walnut Heather / Blue Haze, Blue Ice Heather, Vista Blue, Billiard Table Heather, Punch Drunk, Denim Blue, Hightide Heather, Boxwood, Grey Heather / Black, Total Eclipse / Charcoal Heather, Stardust, Grapevine, Pride Pack, Purple Smoke Heather, Summer Pack, Stardust Heather, Winestain, Rainforest
||s:Small,||m:Medium,||l:Large,||xl:XLarge,||xxl:XXLarge
Design & Construction
Specs & Care
1
2
3
4
Every Detail Matters

Flex waist & belt loops

Stealth zip pockets

Back-ribbed ankle cuffs

Back welt zip pockets
Materials & care
91% Polyester / 9% Spandex

Machine wash cold

Tumble dry low

Imported
Designed to work with
Part of The Escape Artist Story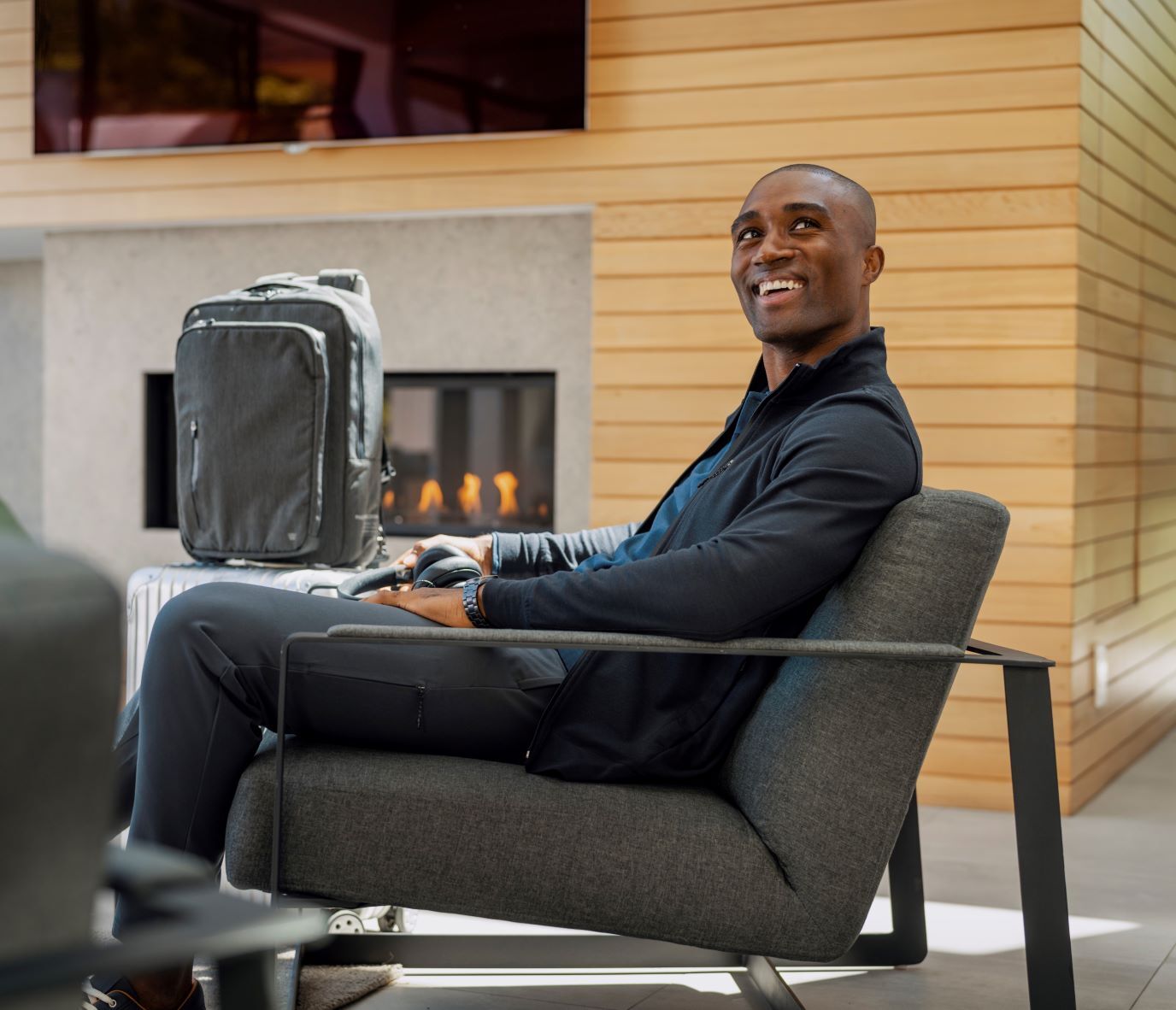 Liquid error (product-item line 4): product form must be given a product
Size Guide
Fit

Streamlined for a more modern, fitted look.

Measurement

| Size | Waist | Leg Opening | Inseam | Knee |
| --- | --- | --- | --- | --- |
| Small | 29-31" | 5.5" | 29.25" | 8" |
| Medium | 32-34" | 5.75" | 29.75" | 8.5" |
| Large | 35-37" | 6" | 30.25" | 9" |
| X-Large | 38-40" | 6.25" | 30.75" | 9.5" |
| XX-Large | 41-42" | 6.75" | 30.75" | 10" |
BUY MORE SAVE MORE!
Create an account to start saving from your very first order. Here's what you can look forward to:
Free shipping on your first order if you spend over $50

10% off $100

20% off $200
If you have an account you'll automatically enter our Weldon Blue loyalty program after your first order and lock in a lifetime of free shipping. Once you spend $200, you'll unlock 20% off every order.
Free Returns Always
We offer three convenient ways to return or exchange an item:
  - Receive a QR code for a contact-free drop-off at a Return Bar. Happy Returns offers 2,500+ Return Bars nationwide. Your refund or exchange will be initiated immediately upon drop-off. No need to box your items
Mail

 

- Receive a mailing label to box and ship your items. Our shippers are resealable, so you can send the product back in the same shipper it came in. Once your package is scanned by the carrier, your refund or exchange will be immediately processed.
Mack Weldon Store

 

- Items purchased online can be returned or exchanged in store. If you purchased online, go through the normal return process to receive a QR for a contact-free drop-off at our store. If your purchase was made in store, you can still go through the online return process, just enter the zip code of the store when searching for your order. Only returns can be processed online for in-store purchases. If you wish to do an exchange, you will need to visit the store in-person or do an online return and make a new purchase.
To view our full return policy click here.
Free Shipping
Orders typically ship from our warehouses within 24-48 hours Monday through Friday. We offer three forms of shipping:
Standard Shipping (USPS) - Free for all Weldon Blue members and orders over $50 in value, otherwise this option costs $5.00 in United States and $8.00 to Canada.
Priority Shipping (FedEx) - Two-day shipping for $15
Expedited Shipping (FedEx) - Overnight shipping for $25
You can view our full shipping policy here.